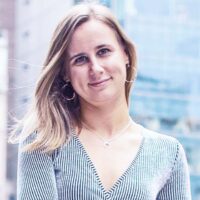 Kristin Holland
Program Manager
With over a decade of experience, Kristin has worked as an Art Director for the world's top brands (Amazon, AT&T, Yankee Candle, Poland Spring, Colgate, and Pepsi) to create their digital and print materials, which involves managing people, projects and processes.
Kristin is especially focused on working with small to medium sized business owners looking to elevate their brand and website. She's worked for many local restaurants, financial firms, and technology companies. Her passion is to help boost new and existing brands so they can reach their full potential.
Kristin learned about wegg® several years ago through its monthly wegg Virtual Café gatherings and fell in love with the group and all the programs wegg offers.  She's always wanted to get more involved with the organization and is super excited to join the team.
Kristin earned her Bachelor's Degree in Graphic Design from Central Connecticut State University in 2014. She currently resides in the suburbs of Philadelphia with her husband.
When she's not designing, you can find Kristin running or exploring new areas, always looking for that next flash of creativity.