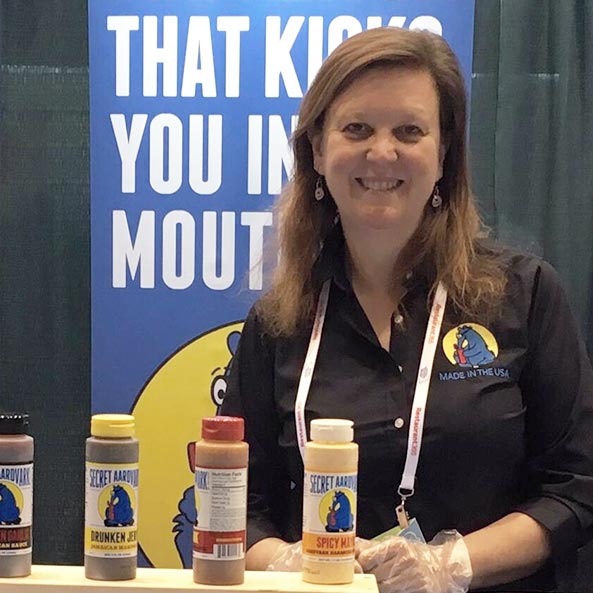 Exporting: Is It Just a Way to Get Free Travel?
with Stacy Moritz
November 1, 2023
Wednesday, Nov. 1
11:00 a.m. CST (12:00 p.m. ET)
By registering, I consent to Women Entrepreneurs Grow Global's collection of my information. 
How to do your research for global exporting
The importance of running and embracing the numbers
How to be agile in an ever changing market
This wegginar® is sponsored by

Note: Thanks to our sponsors, event is "no charge" but you must register to attend.
Stacy is the owner and operator of Secret Aardvark Trading Co., a Portland based specialty food company that started out in Oregon and Washington and continues to be a local favorite.
Stacy, and her late husband Scott, started the company in 2004. They began by selling hot sauce, marinades, gazpacho, kimchi, sauerkraut and a number of other culinary items at the Portland Farmers markets. Within a short period of time they moved into retail and food service. Scott passed away from pancreatic cancer in 2009 at the young age of 44. In the 12 years since Scott passed Stacy has grown the business from less than 100K in revenue to over 4 million. 2024 will be Aardvark's 20th anniversary!
The company has expanded beyond the Northwest and is available across the US and 5 countries. In her former life Stacy was in healthcare and consulting. She has over 30 years' experience as a nurse and 20 years administering contracts for federal and state programs. Stacy's clinical practice was predominately in oncology and adult and pediatric bone marrow transplant. She worked in healthcare quality improvement for over 20 years.
Stacy received an LPN from Boise State University, a BSN from University of Nebraska Medical Center and an MBA from Regis University. She loves Slinging Sauce for a living!