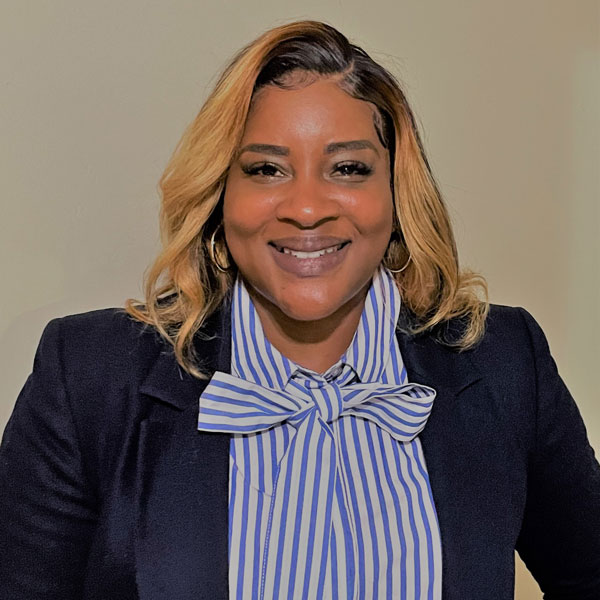 Meet wegg® Board Member Candace Fletcher
"Entrepreneurship is that way sometimes: things don't go according to plan, and you may fail- more than once- but all it takes is that one time you ask for help when you need it, or that creative idea, or that final approval, that can change your life, so don't give up!"
-Candace Fletcher, wegg® Board Member
We are honored and blessed to feature one of our newest board members today, the incredible Candace Fletcher! Candace is the Director of Strategic Accounts at UPS Healthcare, and she has advised countless enterprises on forward-thinking, cutting-edge strategies over the course of her career while lifting up as many people as possible along the way.
Our Program Manager, Lucy Brooks, interviewed Candace on what guiding women entrepreneurs to go global means to her, how she founded the Illinois District- Chapter of the African American Business Resource Group, and how helping others through her line of work has inspired her and helped the greater good along the way.
Lucy Brooks: How did you first get involved with wegg as a board member?
Candace Fletcher: I was invited to attend a WPO (Women President Organizations) Artificial Intelligence workshop in downtown Chicago, where I met Laurel. Following the event, there was a networking reception where we had an opportunity to further discuss ideas about how UPS could expand our engagements with diverse-owned businesses. We enjoyed the hors d'oeuvres and shut the place down. From that point Laurel and I stayed connected; she introduced me to many amazing women business owners and if anyone she knew had logistics concerns, she would always think of me. We agreed that it would be a good idea if I sat on the board for wegg to bring forward my expertise.
LB: What made you want to be on the board of wegg?
CF: I was honored to be asked, and I agreed without hesitation for a few reasons. Having spent years in the Transportation Industry- I have helped many companies define, implement, and execute strategies to grow their businesses globally. I love helping others; I believe that is my purpose. After learning the mission and vision of wegg, and reviewing the statistics on the gap between women-owned businesses that have a global presence vs. male-owned businesses, I wanted to help more women-owned businesses establish their global presence. I also love everything that Laurel represents. I would stand alongside her in any endeavor she pursues.
LB: As the Director of Strategic Accounts at UPS Healthcare, how did your job shift in the wake of the COVID-19 pandemic?
CF: UPS stood up our Healthcare Division in April 2020 which was at the onset of the pandemic, and we were challenged with a much more complex task: getting the world vaccinated.
I remember my last in-person meeting before the pandemic like it was yesterday, 3/16/2020 as I had no idea that would my last in-person engagement for 2+ years. My life- the way I conducted business, volunteer activities, travel, simple welcome gestures, sitting in conference rooms- changed and now there are new standards. Elbow bumps, having my temperature taken as I enter locations, distance in conference rooms, and doing just about everything virtually, now being a home-based employee. 
LB: How did you face and overcome challenges throughout the pandemic pertaining to managing the global strategy and supply chain for complex healthcare clients?
CF: As previously mentioned, we stood up a new division. What I love the most about UPS is that I never have to do anything alone. UPS is an engineering company that has mastered logistics. We have the best and brightest minds leading our Healthcare Strategy and tremendous support to help us navigate extreme challenges. Supply Chain challenges were and are still factors that our clients face. What helped me was having partners around the globe help me understand the challenges they were facing. You must know what is going on across the globe to anticipate how shutdowns in China will impact clients in the US for example. It was a very fluid situation so I stayed connected with my partners in other regions to ensure I could provide proactive communication to my clients, regarding potential supply chain impacts. I am not sure if I got much rest for the last couple of years, but you do what you have to get things done. I have a great support system and individuals that I can connect with to develop a strategy.
LB: Based on your previous roles at UPS where you developed and implemented global expansion strategies with businesses of all sizes, what is your top tip for women entrepreneurs who are trying to go global with their businesses?
CF: There is no time like the present to get started, and Canada is an easy place to start. There are so many trade compliance tools available at little cost today that make it a lot easier to expand globally. You don't need to be an expert or have a large workforce to export your products. Don't be afraid of the unknown. Also, wegg is a tremendous organization that you can align to for guidance, share best practices with other women business owners to empower you, and provide resources for you to get started.
LB: What has being the Chair of the African American Business Resource Group for UPS' Central Plains District meant to you, and what impact do you think the Resource Group, and similar groups, have made for African American-owned businesses?
CF: When I relocated from San Antonio, TX to Naperville, IL to take on a new role at UPS I noticed there were few people who looked like me in Management Roles in the District at that time. I expressed that to my Managing Director of Sales, who asked me, what are you going to do to change that? I, at that point, had an obligation to do something; representation matters. I along with 7 other individuals started the Illinois District- Chapter of the African American Business Resource Group in 2017, with a mission to provide a platform for individuals seeking career advancement and help them develop the skills necessary to accomplish their career goals. Everyone needs coaching, a mentor, and guidance to help them be better, personally and professionally. People need exposure to individuals and opportunities that can have a positive impact on their future, they need someone in their corner that genuinely has a vested interest in developing them. For me, that is my way of paying it forward. I wouldn't be where I am today if I didn't have people who genuinely had a vested interest in my future.
The African American Business resource group has connected with many African American-owned businesses to collaborate on volunteer events, sponsorship opportunities, and campaigns that drive businesses to support them. We always look for meaningful ways to engage with organizations that are doing good in our communities. There are a few that come to mind off the top of my head, Fight for Your Life, Batter & Berries, Shawn Michelle's Ice Cream, Norms Bistro- Chicago, IL, Bus-Loop Burgers – St. Louis, MO.
LB: What part of wegg's mission, "to educate, inspire and nurture women business owners and entrepreneurs worldwide on how to go global so they can run healthier businesses and create a new future for themselves, their families, and their community" resonates with you, and how does your work connect with or support this mission?  
CF: That is such a powerful statement and everything about it resonates with me. Educating, inspiring, and nurturing are all the special ingredients that anyone who wants to be successful needs, plus the willingness to put in the work. It is a true statement saying that the efforts put forth today will have an impact on your future, family, and community. It embodies why I do what I do daily, at work and in my personal life. I am a firm believer that you get out of life what you put into it. When you invest in yourself through education, that is something no one can take away from you- knowledge is power. Inspiration comes from many forms, divine intervention, other people, conversations, the arts, traveling, etc., so you just have to be present to be inspired. What you nurture is what you care about and want to grow or develop.
My position today is one of the most gratifying I've been in with UPS because I am helping people help others. It could be my daughter who needed her vaccines before starting school, my brother who just had surgery comfortably returned home with all the supplies and medication he needs to become healthier, or the Doctor who is performing the surgery and needs the sterile equipment for my brother's surgery, or my grandmother who needs her eyeglasses to see or someone's loved one who needs a new hearing aid, it all matters and I can say that I helped them get what they needed when it mattered the most. I am educating myself daily to understand the needs of others to effectively help them, I am inspired by the stories that are shared and the compassion that I hear when speaking to the CEO of the pharmacy and I am willing to nurture their businesses as if they were my own.
LB: As a mom, are there ways in which being a mother has informed your career and vice versa?
CF: Becoming a mom was one of my greatest achievements in life. My daughter is the driving force for every decision, sacrifice, and a career move that I make. Before I had her, I would take on any challenge, now I am mindful that there is someone else that must be considered. I find myself being more selective about where and how I allocate my time. I would say this is synonymous with business because I have to spend time where I will receive and provide the greatest impact.
LB: In your career, what has been a meaningful project or experience to work on and be a part of?
CF: This is a tough one because in my current role I work with so many companies that care for people that do very impactful work that I am part of. In reflecting, there was one occasion two days before Thanksgiving a few years back when I managed a direct-to-patient Hospice pharmacy. There was a package that was not on schedule to be delivered to a patient that needed her medication in a town about 30 miles from where my sister lived. With permission from my client and the authorizations needed internally from the local business manager, I asked if they would mind if I called someone to help, and they agreed. I called my sister and asked if she could do me a favor, which was to pick up the package from a facility and ensure it was delivered to the patient that evening, she agreed and was able to make sure the package was delivered. The patient was very grateful that she got her medication and said, "God Bless you, young lady, I don't know how I would have made it through the night without it". My sister told me that it felt good to be able to get that package delivered and she told me she appreciates the fact that I called her to get it done. She realized how important it was based on the passion she heard through the phone when I called her.
I shared that story because sometimes things do not go according to plan, so you have to be creative, and you can't be afraid to ask for help when needed. You never know what someone else is going through or take it for granted. You must do everything possible to make the impossible happen at times. Although it only took a few phone calls, it was the willingness of someone else who cared enough about me and what I do that made it happen not for me but for the person who needed it the most. Entrepreneurship is that way sometimes, things don't go according to plan, and you may fail- more than once- but all it takes is that one time you ask for help when you need it or that creative idea, or that final approval that can change your life, so don't give up!
LB: What is the best advice you have ever received?
CF:  My mom once told me "Never let life changes change who you are as a person or what you believe in". There are going to be times when you want to give up, you may lose confidence in yourself or your business but believe me, things will get better, no is not always a rejection, it just isn't your time. Continue to power through, self-develop, reflect, find inspiration, nurture your business and always remember that what you put into life, or your business is what you will get out of it.
We are privileged to have Candace sit on our board, and we are so grateful for the time and insight she has already gifted us. Thank you, Candace, from all of us in the wegg community, for sharing yourself, your stories, and your expertise with us all.