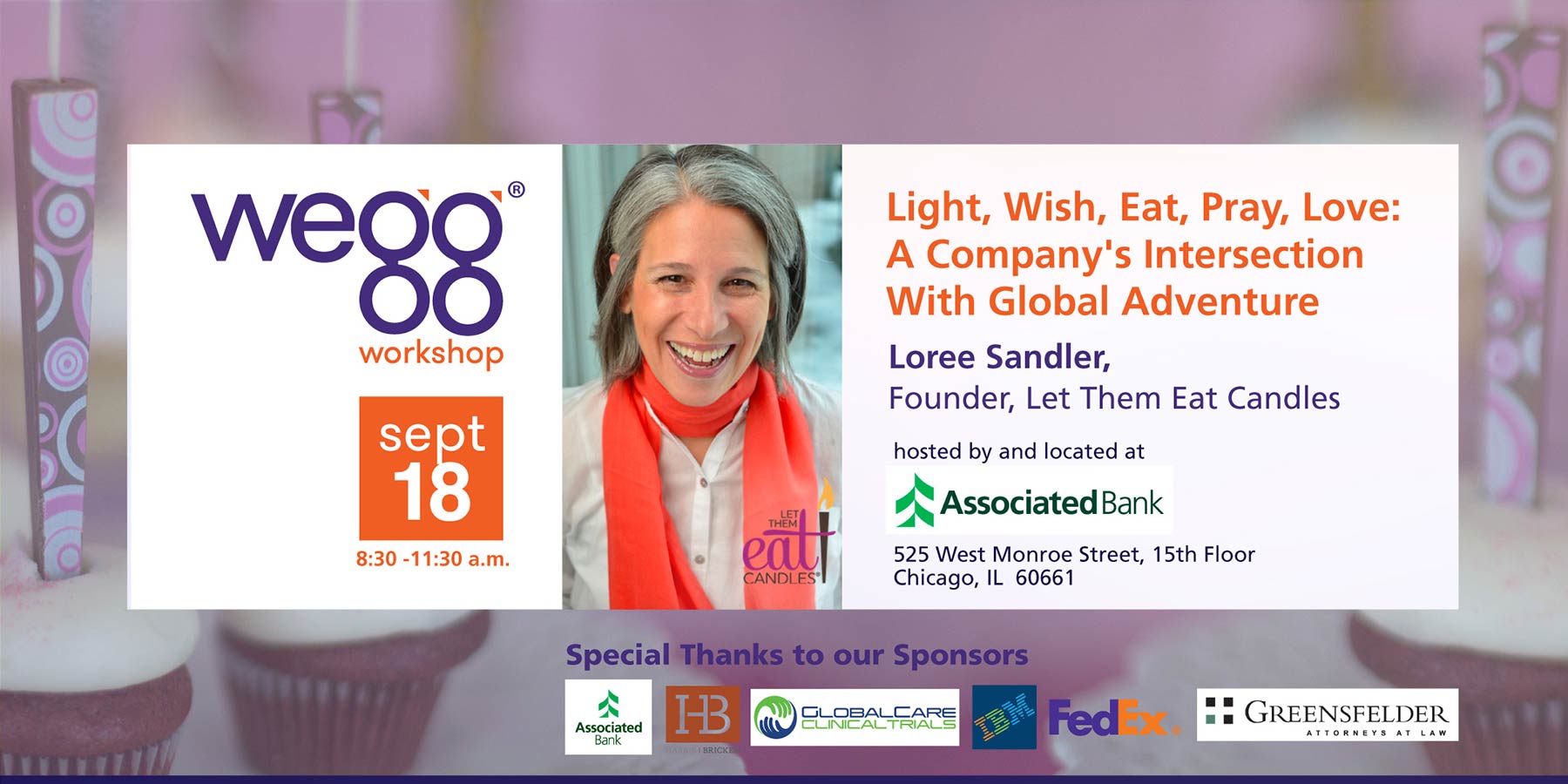 Light, Wish, Eat, Pray, Love: A Company's Intersection with Global Adventure Loree Sandler, Founder, Let Them Eat Candles September 18, 2019
Join us for our wegg® workshop on Wednesday, September 18th and hosted by Associated Bank (525 West Monroe Street, 15th Floor) from 8:30 a.m. – 11:30 a.m. Central time.
We will have an intimate round-table discussion Loree Sandler, founder, Let Them Eat Candles, who will talk about:
Starting a business from scratch
Exhibiting at trade shows
Exporting by request
Engage in a morning of learning, sharing and understanding what it takes to grow a business global.  Attendees will walk away inspired and armed with the insights they need to take their business global.
Light, Wish, Eat, Pray, Love: A Company's Intersection With Global Adventure
8:30 - 9:30 a.m. - Registration / Continental breakfast / Networking
9:30 - 9:45 a.m. - Warm welcomes and introductions
9:45 - 10:45 a.m. - A conversation with Loree Sandler on how she started and runs Let Them Eat Candles
11:00 - 11:30 a.m.
- Thank yous  / Networking
Seating is limited. $40. Students: $20.  Includes a great discussion, program material, coffee and muffins.
____________
I cannot attend, but I want to make a donation to wegg®.
About Loree Sandler, founder, Let Them Eat Candles
In late 2011, while watching traditional wax candles puddle upon a beautifully frosted cake, Loree Sandler, mother of three, wondered why her sons couldn't have their cake and eat the candles, too. Thus began her journey to develop edible chocolate celebration candles.
For Sandler, building a product and a business from scratch meant traversing steep learning curves with little baby steps. In 2014, Let Them Eat Candles was a finalist in Martha Stewart's American Made contest. In 2016, Let Them Eat Candles was selected for launch on TheGrommet.com, a company that green lights less than 3% of products submitted. And in 2018 ABC's Good Morning America (digital) profiled LTEC as one of the most innovative products at the Specialty Food Association's Fancy Food Show.
When Sandler was approached by the licensed distributor for Jelly Belly Sweden with a request to import Let Them Eat Candles, she was reluctant. Exporting was not a priority. But the opportunity ultimately led to a second place award in Chicago Regional Growth Corporation's Export Pitch contest, which in turn led to Sandler's participation in CRGC's ExporTech.
Sandler earned a BA in Economics from Vassar College in 1986 and a Master of Architecture from University of Illinois - Chicago in 1994.
The wegg workshop is designed to give participants an introductory understanding of what is involved in taking a business global.
The workshop is intended for students aspiring to go global, small business owners, entrepreneurs, and attendees at wegg's wegginar™ series a chance to meet in person together to stimulate a discussion around the benefits and challenges to exporting. Our goal with the workshop is to unlock export potential in each person's business.