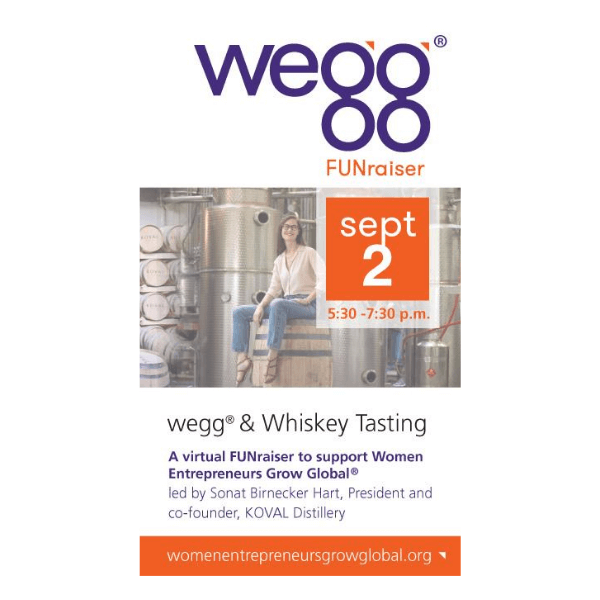 wegg® and Whiskey Tasting with KOVAL Distillery
You are cordially invited to attend our wegg® & Whiskey Tasting – an immersive and interactive virtual whiskey tasting experience led by co-founder and President, Sonat Birnecker Hart, KOVAL Distillery.
Learn from Sonat as she seamlessly blends the tastings in with the KOVAL story and her entrepreneurial journey. At the same time, you will have an opportunity to chat with Sonat, discover the magic of whiskey, and mingle with fellow wegg fans.
For those setting off on their first whiskey exploration, consider this program your compass. For the whiskey pros, make yourself comfortable you will be in good company.
September 2, 2020:  5:30 p.m. – 7:30 p.m. Central Time
5:30-5:35PM:  Warm welcomes and virtual housekeeping
5:35-5:45PM:  Introductions
5:45-6:45PM: Tasting begins
6:45-7:30PM: Networking, sipping whiskey and listening to female jazz instrumentalists
7:30PM: Thank yous!
$20 per person (not including surcharge). Attendees are encouraged to order their whiskey well in advance to ensure its arrival prior to the tasting but even if you don't have the whiskey on hand, you will still enjoy this program. GRAMMY-nominated music writer Bob Marovich has curated a Spotify playlist of female jazz instrumentalists specially for the occasion!
Reserve your e-seat and get ready to swirl, smell, sip, network and support wegg! As a FUNraiser for wegg®, we hope you will join us to meet our wegg family and community: past wegginar presenters, sponsors, business owners, service providers and the wegg team. Men welcome!
This also gives us a great moment to thank our sponsors because without them, none of wegg's educational programs would be possible.
To learn more and to register, visit: https://womenentrepreneursgrowglobal.org/2020/08/06/wegg-and-whiskey-tasting-sept-2/  See you there!