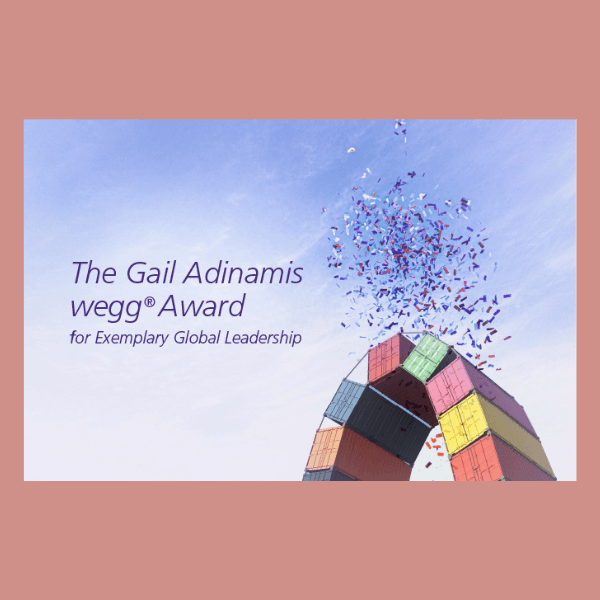 Now Accepting Nominations for The Gail Adinamis wegg® Award
Posted by

Date

March 22, 2021
 "I will not follow where the path may lead, but I will go where there is no path, and I will leave a trail."
-Muriel Strode, poet
wegg® is proud to introduce The Gail Adinamis wegg Award for Exemplary Global Leadership. This award honors and celebrates Gail Adinamis, who has been essential to the growth and success of Women Entrepreneurs Grow Global®.
Gail is a wegg stakeholder who has gone out of her way to forge helpful alliances and collaborate with the wegg team. She is the definition of exceptional global leadership, and without her contributions, wegg would not be in the position it is in today. Gail has been a tremendous supporter of wegg, and we are privileged and thrilled to establish this award in her honor.
Gail Adinamis is the founder and CEO of GlobalCare Clinical Trials, LLC.  Established in 2010, GlobalCare Clinical Trials brings Phase I-IV clinical trials to patients, instead of the other way around.  Today, the company's in-home and alternate-site nursing services can be found in more than 60 countries. The company was acquired by LabCorp's drug development business, Covance in July 2020, further expanding Covance's decentralized clinical trial capabilities globally, enabling recruitment and increasing access to trials.
Global trailblazers like Gail Adinamis are defined not only by their worldly knowledge and connections, nor by the global opportunities they seize, but by how they contribute to the improvement and growth of others. The wegg Board of Directors will nominate individuals for this prestigious award. If you have a candidate to put forth — contact us.