Congolese Women Achieve Economic Empowerment Through Business Registration
wegg® is inspired by a recent financial enfranchisement program developed by UN Women and a Congolese women's civil society organization in which women in the Democratic Republic of Congo are assisted in registering their marketplace businesses. This effort called the "Support Project for the Development of Micro, Small, and Medium-sized Enterprises," is aiding the women entrepreneurs of the Mont Ngafula market in certifying their livelihoods. This action leads to increased income security and more widely available resources for their businesses.
The write-up on this project released by UN Women, entitled "Women vendors register businesses, and hope, in DRC," describes the precarity that this population of vendors is accustomed to when operating unregistered as,
"In the informal sector, where most women and other vulnerable populations operate, there is no social protection offered by official bodies. In a competitive business like market vending, where perishable goods must often be disposed of at the end of the workday, women rarely generate sufficient income to renew their stock. Vendors often end up having to buy merchandise on credit from fraudulent suppliers under unfavorable terms. Women entrepreneurs also face sociocultural barriers, violence and gendered stereotypes. Some experience rape, sexual violence, kidnapping, intimidation or theft, or are barred from engaging in commercial activity by their spouses or partners."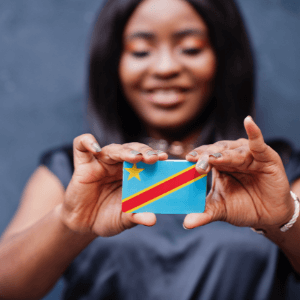 The first twenty vendors were registered in October 2022, and hopefully, the movement will spread out to other marketplaces in the nation. Once the first few groups have been able to reap the benefits of the registration, they will be able to help their fellow women entrepreneurs in securing the same paperwork and rights.
Women founders paying it forward to ease the hardship of other women is paramount to the success of women entrepreneurs around the globe. The impact that UN Women and CAFCO have had on this community of women cannot be understated. The privileges of being an official business in a marketplace in the DRC are numerous, as UN Women describes,
"Through formal registration, and attending workshops on entrepreneurship, women are more likely to escape poverty and grow as entrepreneurs. Being legally registered enables them to access social security benefits, market information, and protection from violence. It also gives them access to fair loans from banks, allowing them to grow their businesses legally and safely."