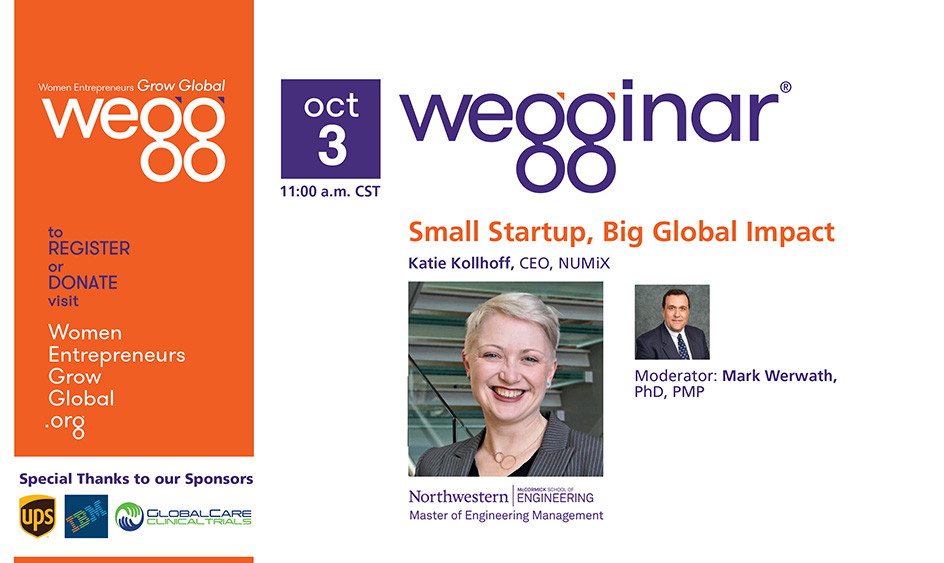 NUMiX: Small Startup, Big Global Impact
Our next wegginar® presenter is Katie Kollhoff, CEO of water purification startup NUMiX, a business with rich marketplace potential.  In just six months, here's what Katie and her team has achieved:
About NUMiX
The NUMiX business includes a suite of sorbent powder products capable of collecting metals from water.  Such products could be used to clean toxic metals out of industrial wastewater or recover silver in manufacturing processes for reuse.
About Katie and her upcoming wegginar 10/3/18
Katie is a Master's of Engineering Management student and a safety engineer at Northwestern with a background in chemical engineering, specializing in process safety management.  Her wegginar, "Small Startup, Big Global Impact," will cover:
Origin story of a small women-owned hard science company
Technological developments and their impact on water risk
Worldwide water as a market
Considerations of a small company reaching across the globe
To register (it's free due to wegg's sponsors) or learn more, visit: https://register.gotowebinar.com/register/8060785115734801921