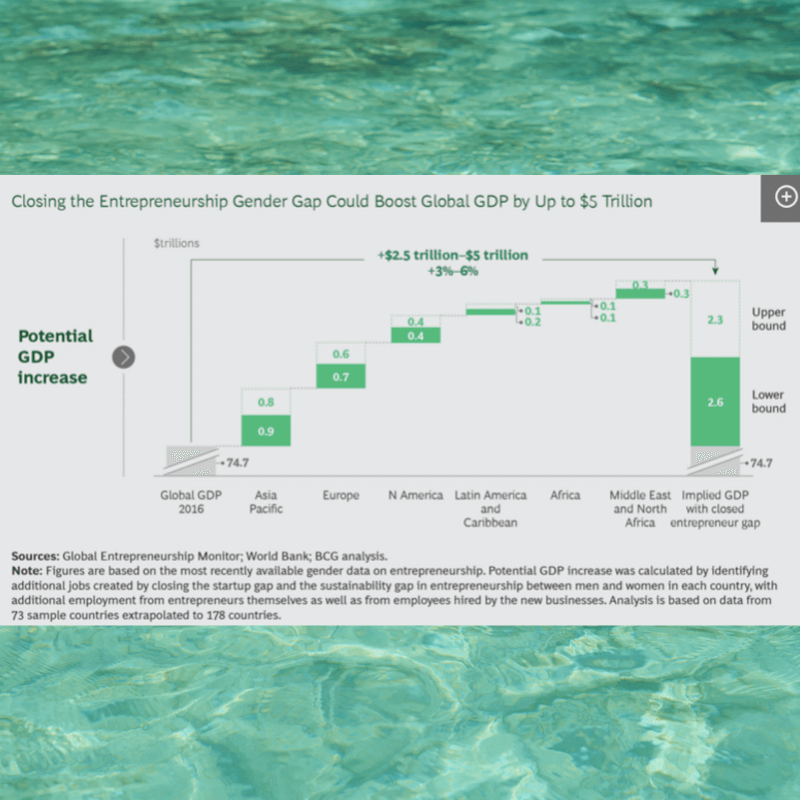 The Catalyst to Adding $5 Trillion to the Global Economy? Women Entrepreneurs
A new analysis by Boston Consulting Group (BCG) shows that if women and men participated equally as entrepreneurs, global GDP could rise by approximately 3% to 6%, boosting the global economy by $2.5 trillion to $5 trillion.  However:
… unleashing the power of women entrepreneurs will require action from a range of groups, including venture capitalists, nonprofit organizations [such as Women Entrepreneurs Grow Global™], and corporations. These efforts must address a critical and at times overlooked issue: the lack of networks that effectively support and mentor women entrepreneurs.
So ladies, there is a sure-fire way to add $5 trillion to the global economy:  women entrepreneurs.
The BCG analysis yield the following findings:
"Across all regions, the percentage of working-age men who start a new business exceeds the corresponding percentage of working-age women by roughly 4 to 6 percentage points.
Four countries—Vietnam, Mexico, Indonesia, and the Philippines—have managed to buck the global norm; more women than men launched startups in these countries in 2016.
In 50% of the 100 countries studied, the gender gap in startup activity and sustainability is narrowing, with the biggest gains occurring in Turkey, South Korea, and Slovakia.
In 40% of countries, however—most notably in Switzerland, Uruguay, and South Africa—the gender gap is widening."
What can countries do to help women-led businesses survive and thrive?
Read the entire article to find out but it starts with giving more financial support to women entrepreneurs who tend to perform better over time, generating 10% higher cumulative revenue over a five-year period: $730,000 for women compared with $662,000 for men.