Enlighten Your Business: Allow Women to Lead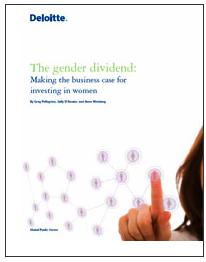 Sharon Allen writes:
As an accountant for the past 38 years, I have long believed that numbers tell a story. For many years, I have seen a steady stream of research whose numbers confirm the impressive contributions made by the relatively few women at the highest levels of leadership in business today. So it only makes sense that more women serving in these roles will lead to greater business performance and economic growth.
Who is Ms. Allen?
Sharon Allen is Chairman of the Board for Deloitte LLP where she leads the board in providing oversight and guidance to the management of the U.S. Firm and its subsidiaries. Frequently honored for her contributions to business and community leadership, Sharon was named to Forbes' list of "The 100 Most Powerful Women in the World" for four consecutive years.
And you will absolutely understand how she got to where she is at when you read this eloquent blog post for Deloitte on The Gender Divide (a must read): Making the Business Case For Investing in Women.
Posted by:  Laurel Delaney