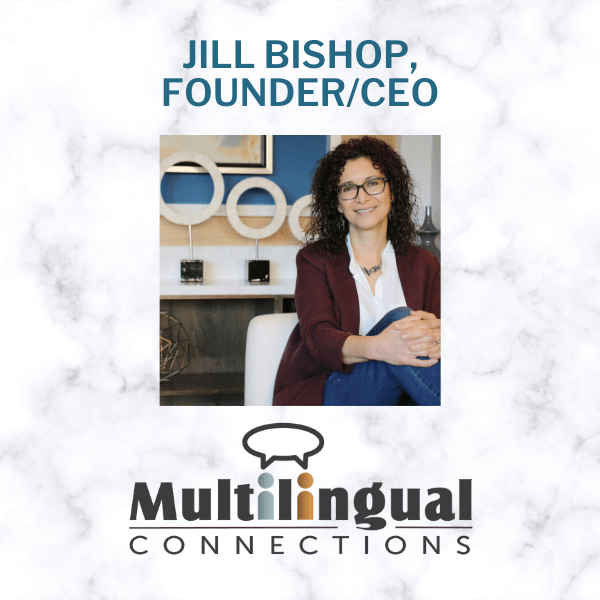 Summary of the weggchat®
with Jill Kushner Bishop, Ph.D., Founder and CEO of Multilingual Connections
w = wegg®
J = Jill Kushner Bishop, Ph.D.
w: Morning Jill! Thank you for joining us for today's weggchat®. We are excited to host you. Tell us about yourself. How did you get into the field of translation?
J: I've always been drawn to language and culture, and I love traveling internationally. I taught English in Spain, Argentina, and Israel, and taught workplace English here in the US. I got my doctorate in Linguistic Anthropology, and I left academia to do applied anthropological research in the corporate setting.
I lost my job soon after 9/11, and eventually was hired by Chipotle to roll out Language & Culture programs for 130 restaurants. One aspect of that work was translation and interpretation – my first exposure to it in any formal way.
After Chipotle, I started my own company with a focus on bridging language and culture in the workplace through language classes. Our translation services came later, as did a community-focused language school called Multilingual Chicago. About 5 years ago, I made the difficult decision to stop offering language training and focus instead on translation services.
w: Your company is Multilingual Connections. What do you offer and where are you based?
J: Multilingual Connections is a global language solutions company that helps clients understand, engage and grow their multilingual audiences. We provide translation, transcription, subtitling, and voice-over in over 75 languages and are located in Evanston.
w: Some folks say translation is the new global currency. Why is translation important for businesses who aspire to go global?
J: Translation is indeed essential for global business. While many people across the world speak English, if you want to connect with your customers, it's important to do it in their language – and to be sensitive to cultural considerations. https://bit.ly/2GZ8TFT
w: Are you able to conduct business with anyone in the world and if so, how do you perform the work (e.g., by telephone, Skype, Zoom, etc.)?
J: We're a team of 27 full-time folks in 8 countries, and every day we're working with dozens of linguists across the globe. And then there are our clients, who are everywhere. So yes! We absolutely conduct business with anyone in the world.
We use Google Meet for video, as we feel that video helps create and strengthen relationships. Internally, we use Google Chats and have a variety of rooms for both business and personal connections.
w: What's the bulk of the business you conduct? In other words, what do business owners keep asking for relative to translation services?
J: We work across industries, but areas that are growing include marketing, qualitative research, and multimedia localization. And while Spanish is the most commonly-requested language, other top languages include Arabic, Portuguese, French, Russian, Turkish, Japanese, German, Italian, Vietnamese, and Polish.
w: Where do business owners fall short and where do they excel in this regard?
J: We find that translation is often an afterthought and that can complicate things. The more you plan for translation – prioritize particular languages or portions of your marketing content – and budget for it, the more streamlined the process will be, and the better the outcome will be.
w: How does authenticity play into serving a multilingual audience?
J: Companies often include a Google Translate button on their website, but that's not authentic language, and machine translation doesn't take cultural nuance into account. https://bit.ly/31qSHGS
If you really want to connect with people, you have to show you understand them, and that you hear their voice, and then focus on conveying your message and brand professionally and accurately – both linguistically and culturally.
w: So true – it can lead to some cringe-worthy results!
J: Yes, unfortunately, like this one: https://multilingualconnections.com/latest-posts/president-shithole-adventures-machine-translation/
w: Do you believe professional translation enables effective communication with global communities?
J: When done right, it absolutely can. But it's not the only thing to take into consideration. You can't make assumptions about multilingual audiences based on what you know about your current audience. If you're launching a new product or service globally, fantastic translations can fall short if you haven't first done your homework to understand the particular needs of those communities. That's where market or user research comes into play.
w: What's the secret to operating outside your own backyard and connecting with global communities?
J: Doing the research to understand those communities, and then spending the time and investing the resources in connecting with them in culturally and linguistically authentic ways.
w: What's the most unusual language you have had to translate?
J: One less common language we transcribed was Turkmen, spoken in Turkmenistan, for a Last Week Tonight video clip. Or Maay Maay, spoken natively in Somalia by about 4 million people.
w: You were recently named to the Inc. 5000 list of fastest-growing companies in Chicago. Congrats on that honor. Any advice you have for aspiring entrepreneurs who wish to enter the linguistics business, especially about how to guarantee super business growth year after year?
J: Thank you! It was exciting to be part of a really inspiring group of businesses! My advice, whether you're interested in the language industry or others, is to surround yourself with really smart people – both within your industry and outside. https://bit.ly/2SfZsas
w: Beyond making money, what's the impact you are providing and anything else we've missed?
J: We talk a lot about the impact of the work that we're doing, and that's what's most inspiring and what keeps me doing this work. First of all, we're creating a great company that cares about its people. We feel lucky that we get to work in an industry that we're passionate about, and we're proud of the impact that we make every day.
We do a lot of great work for a variety of organizations that make the world a better place, and we donate a lot of free translation services to organizations that are helping refugees. We talk about our impact a lot, from supporting social workers and families of abuse victims by translating case materials or keeping non-English speaking employees safer on the job by translating workplace safety manuals and training modules. https://multilingualconnections.com/blog/impact-behind-numbers/
We love the connections we create with our clients and linguists, and we love knowing that we're helping our clients create connections that matter to them.
For more information, visit #weggchat via Twitter.