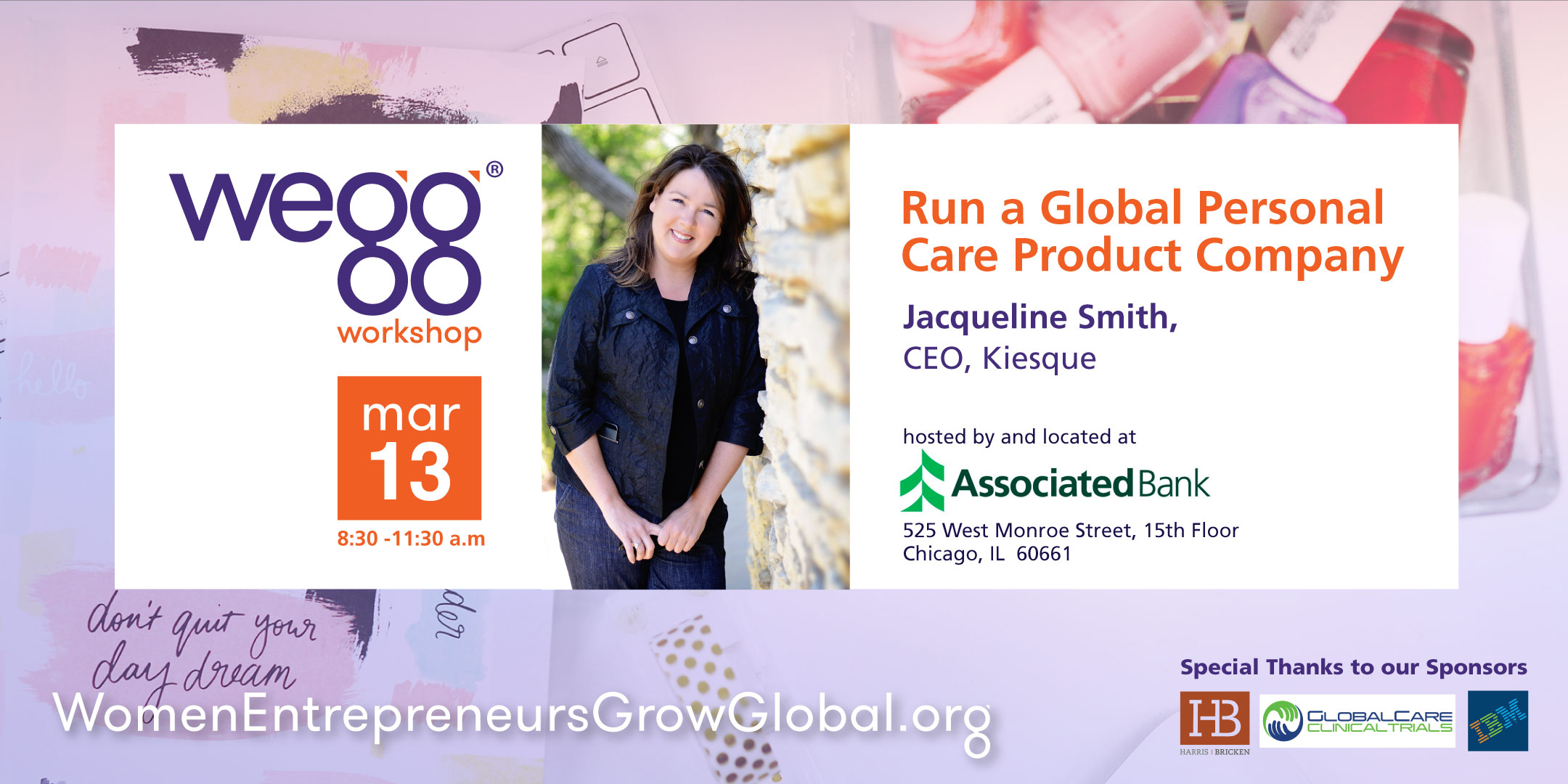 wegg® workshop 3/13: Experiential Learning on Going Global with Kiesque CEO Jacqueline Smith
Posted by

Categories

e-commerce, Education, Event, Global trade, global women entrepreneurs, How-to, International business, Marketing, Training (entrepreneurial), WEGG event, WEGG workshop

Date

February 25, 2019
We are so excited about our next wegg workshop® March 13th and hosted by Associated Bank (525 West Monroe Street, 15th Floor) from 8:30 a.m. – 11:30 a.m. Central time.
Here's why we cannot contain our enthusiasm.
Kiesque CEO and founder Jacqueline Smith will be sharing her experience running a global small business and expect all attendees (that is why seating is limited!) to engage in a conversation.  We want this to be an intimate gathering for people who want to participate in experiential learning on how to take a business global. Jacqueline will talk about:
What it takes to start a business
How a business owner grows a business global
What the process is like to obtain a patent on a product
How good media coverage can spur growth
The trials and tribulations to running a global business
The expectation is such that everyone who attends gets to ask a question and get an answer – so come prepared to engage in a morning of learning, sharing and understanding what it takes to grow a business global.
We guarantee you will walk away inspired and armed with the insights you need to take your business global.
The price to attend is $40, students, $20, and includes a great conversation, program material, coffee, muffins and a wegg bag.  Can't beat that.
To learn more and to register, visit: https://www.eventbrite.com/e/wegg-workshop-roundtable-discussion-with-jacqueline-smith-ceo-kiesque-tickets-56688344364
See you there!