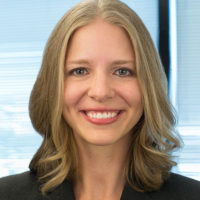 Elizabeth (Ela) W. Baio
Board Member
Ela is a partner at Nixon Peabody in Chicago.  A Chicago native, she obtained a degree in Chemical Engineering from the University of Notre Dame and her law degree from Loyola University Chicago School of Law.
Ela has extensive experience working with various types of companies, from start-ups to large international companies, focusing on patent prosecution and trademark matters. Her experience includes prosecuting U.S. and foreign patent and trademark applications, clearance work, due diligence evaluations, and preparing validity and infringement opinions, to client management, licensing, domain name enforcement, and litigation matters. Ela has participated as an intellectual property speaker and advisor for the European Innovation Academy in Turin, Italy in 2017 and in Cascais, Portugal in 2018.  While there, she worked with dozens of start-ups across various industries in an "incubator" setting, advising on the importance of securing intellectual property and how to effectively do so.
She is an active member of her law firm's recruiting and professional personnel committee and also serves on the board of the Notre Dame Club of Joliet. She is also one of her firm's representatives in the Move the Needle Project, an initiative to promote diversity and inclusion in the legal profession and beyond.
Ela enjoys travelling, cooking, exercising, and spending time with her husband and sons (ages 10 and 11).