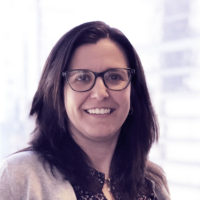 Genevra Knight
Board Member
Genevra is a Partner at Porte Brown with more than twenty years of experience providing tax consulting and accounting services to individuals and closely held businesses. She is the partner-in-charge of the paperless audit process and the firm's quality control procedures.
Genevra is one of the leaders of Porte Brown's Audit, Not-for-Profit, and Construction Practice Groups.  Her expertise covers:  Federal & State Income Tax Preparation; Preparation of Financial Statements; Compilations & Reviews of Financial Statements; Certified Audit; Not-for-Profit Trade Associations; Not-for-Profit Charitable Organizations; Not-for-Profit Yellowbook, OMB, and HUD Auditing; and Construction Industry Services
She has a B.S. in Accounting, Bradley University and is a Certified Public Accountant and Certified Construction Industry Financial Professional.
Her professional and civic involvement entails:  Board Member of Schaumburg Business Association; Federation of Women Contractors; Member of Illinois CPA Society Audit & Assurance Committee; and Member of AICPA.