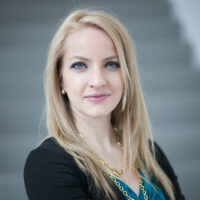 Hannah Slaughter
Board Member
Hannah Slaughter is a Strategy & Analytics Consultant focused on strategy, innovation, and technology in the Financial Services and Consumer Products industries.  A former concert pianist, entrepreneur, and city councilor in the State of Indiana, she brings a unique perspective on driving success in both public and private sectors.
Hannah has extensive experience in strategy development and implementation, focusing on the intersection of business and technology to help organizations innovate and evolve ahead of disruption. Her work has enabled her clients to manage the business of today while planning for the business of tomorrow. She has a strong background in policy, public speaking, and conflict negotiation, which facilitates her interest in economic development and organizational leadership.
Originally from Delphi, Indiana, Hannah graduated with honors from Columbia University where she studied Political Science, International Relations, and Business Management. While on campus, she served as Student Body President and Vice President of the Columbia Women's Business Society. She previously served on the boards of Leadership Carroll County, Delphi Economic Development Committee, and Delphi Preservation Society.  In 2022, she obtained an MBA at Columbia Business School.
Hannah resides in Manhattan with her husband and enjoys traveling, cooking, urban gardening, and running in Central Park.
Meet more of the wegg team