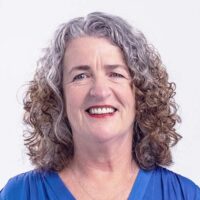 Kate McCarron
Board Member
Raised in Portland, Oregon, Kate received a bachelor's degree from Lewis & Clark College in 1982. In 1984, Kate joined the administrative team of the Division of Nephrology, Hypertension & Clinical Pharmacology at Oregon Health & Sciences University. Within two years she assumed the administrative directorship of that department, supervising a staff of over 30 individuals until 1998 when she founded Academic Network LLC, an outgrowth of a National Institutes of Health grant. As President and CEO of ANW, Kate led her team in developing educational websites, social media campaigns, and print materials for health professionals. Projects included the Calcium Information Center (SmithKline) and a nutrition support center for a comprehensive-nutrition meal program (Campbell Soup).
ANW gained national repute for managing health and nutrition communication programs for the National Milk Producers' Milk Mustache Campaign ("Got Milk?"). On the heels of this success, Kate collaborated with the Office of the Surgeon General, the American Academy of Pediatrics, and corporate sponsors (i.e.,Nike, FedEx, Johnson & Johnson) to launch Shaping America's Youth, a national, community-based initiative to improve childhood nutrition and physical activity in the U.S. In 2008, she accepted an unsolicited purchase offer for Academic Network from an S&P 500 company.
In 2014, while caring for her elderly dog, Kate created an all-USDA, human-grade dog meal entirely sourced and produced in the USA. That vision soon evolved into Portland Pet Food Company, the only pet nutrition company in the US that uses all USA-sourced, human-grade ingredients and contains no supplements, preservatives or stabilizers.
In addition to leading PPFC, Kate is active with several national women-owned business organizations and community support activities. Kate received the 2021 Woman of Influence Award by Pet Age Magazine and Emerging Exporter of the Year in Oregon in 2022.