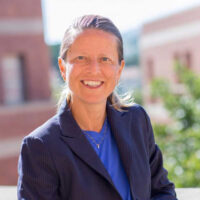 Kati Suominen
Board Member
Dr. Kati Suominen is Founder & CEO of Nextrade Group, a data and AI company that helps governments and Fortune 500s solve big problems in world trade and digital development; Founder of Business for eTrade Development, a non-profit backed by leading global companies on a mission to advance ecommerce in developing nations; and Co-Founder of the new Singapore-based Digital Standards for Trade (DST) aimed to digitize international trade transactions end-to-end.
She is also Adjunct Fellow at the Center for Strategic and International Studies (CSIS), where she founded the Digital Trade program, and Adjunct Professor at UCLA Anderson School of Management, where she teaches courses on international business economics and the economics of global digital disruption.
Her 10th book is Making Trade Great Again: How Disruptive Technologies Open Opportunities for All (Stanford University Press, 2018).
She is the idea woman behind such international initiatives as eTrade for All now championed by the United Nations an RTA Exchange, a global dialogue forum on regional trade agreements led by the Inter-American Development Bank with International Center for Trade and Sustainable Development.
She has spoken extensively on trade and digitization, e.g. at Davos, World Trade Symposium, Global Trade Review, World Bank, and WTO.  She is Life Member of the Council on Foreign Relations.  MBA, Wharton; PhD, UC San Diego.
Meet more of the wegg team