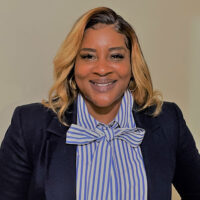 Candace Fletcher
Board Member
Candace has lived in Chicago for 6 years, currently she's a Director of Strategic Accounts at UPS Healthcare. She manages the global strategy and supply chain for complex healthcare clients. Candace started her career nearly 10 years ago in San Antonio, Texas and has held several positions with increased responsibility over the years.
In previous roles at UPS, she developed and deployed global expansion strategies with businesses of all sizes, across multiple industry segments. Prior to joining UPS, she was a licensed Insurance Broker and owned an insurance firm after graduating college. She has a proven track record of navigating challenging situations, identifying, and implementing end-to-end solutions with a focus on quality and compliance.
Candace is from St. Louis, Missouri, has a Bachelor's of Arts Degree from Southern Illinois University-Carbondale. She is the Chair of the African American Business Resource Group for UPS' Central Plains District and sits on the Young Professionals Board for After-School All-Stars Chicago. She is passionate about making a difference in the lives of others and able to live her passion through her current roles, volunteerism, and supporting diverse businesses.
Candace lives in Chicago with her fiancé John, daughter Jersie (age 4), dog Dozier and fish. She loves nature, gardening, golf, traveling, and cooking with her family and friends.
Meet more of the wegg team