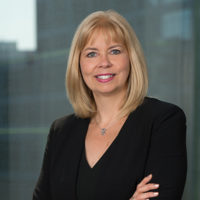 Susan Meyer
Board Member & wegg Specialist
Specialist focus: Intellectual Property: Trademarks, Copyrights, Patents, Trade Secrets, Media, Advertising
Susan Meyer advises businesses in the areas of intellectual property, franchising, and distribution, drawing on her experience as a former business owner to provide practical, value-driven legal counsel. She represents companies in the U.S. and internationally in every stage of development.
Susan handles intellectual property prosecutions, licensing, and dispute resolution and has extensive experience in trademark law, representing clients before the Trademark Trial and Appeal Board. She also works with franchisors on compliance issues and serves as outside general counsel for businesses on general business matters.
Susan was appointed in 2019 as Norway's Honorary Consul for Illinois. In this role, she assists with consular affairs and helps to facilitate development of business, cultural and educational relations between Norway and the U.S. In her legal practice, she frequently advises companies on matters related to commerce between the U.S. and Scandinavia.
She is a past president of the Chicago Chapter of the Norwegian-American Chamber of Commerce (NACC) and twice attended the SelectUSA Investment Summit on international trade opportunities as a member of the Norwegian delegation. She is an active member of the Norwegian-American Defense and Homeland Security Industry Council (NADIC) and the Swedish American Chamber of Commerce (SACC).
Susan serves on the board of Women Entrepreneurs Grow Global® (wegg), a non-profit organization dedicated to helping women-owned businesses expand internationally.