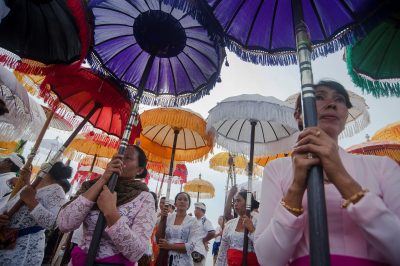 Unlocking the Full Potential of Women- led SMEs in Indonesia
Posted by

Categories

Business Development, Country specific, Culture, Education, Enlighten Me!, Equality, Finance, Gender challenges, Global news, Global trade, global women entrepreneurs, Innovation, Inspiration, International business, Leadership, Social Entrepreneurship, Sustainability practices, World entrepreneurship

Date

August 20, 2018
In a recent East Asia Forum article, "Unleashing the capabilities of women-led SMEs in Indonesia," author Naimah Talib reports that 43 percent of the 26 million small-to-medium enterprises (SMEs) in Indonesia are women led or women owned (WSMEs). Not only do these WSMEs make up for ten percent of the country's GDP, they also lead to social development of the culture by empowering women economically. Besides these major benefits, support of WSMEs aids Indonesia in achieving the UN's "Sustainable Development Goals", specifically the tenets of 'gender equality,' 'decent work and economic growth', and 'reduced inequality'.
The advantages of backing WSMEs are clear, but why are there limitations on the growth of these organizations? This is the question that Talib proposes. She illustrates just some of the difficulties women who head businesses face. Talib explains,
" …common difficulties for expansion [for WSMEs] include limited access to information about financial support, lack of business and entrepreneurial skills, lack of professional networks and limited government support and services at the local level. Financial support is available for WSMEs, but female entrepreneurs tend to lack information about these options. Female entrepreneurs find that information about government funding programs is often limited, difficult to access or unclear."
One of Talib's main arguments suggest that Indonesian policymakers fail to effectively provide WSMEs with the necessary resources to solve these issues. Talib writes of the necessary reform,
"Three areas require greater attention: increasing the accessibility of information, strengthening the institutional capacity of the Creative Economy Agency and improving government services at the local level."
To read more about the specific solutions posed to the pressing issue of the neglect of Indonesian WSMEs, read the article here.
_______________________________________________________
JOIN us for our morning wegg™ workshop on September 12th and hosted by Bank of America (135 S. LaSalle Street, 44th Floor).  Julie Smolyansky, President and CEO, Lifeway Foods, will present "Follow Your Gut," covering:
How global factors influence company values and mission
Why we should empower women entrepreneurs around the world
How to channel inspiration from travel experiences into marketing initiatives
Tickets $40 ($20 for students); includes Continental Breakfast.  To learn more and to register, visit:  https://www.eventbrite.com/e/weggtm-workshop-follow-your-gut-presented-by-julie-smolyansky-tickets-48655708534
__________________________________________