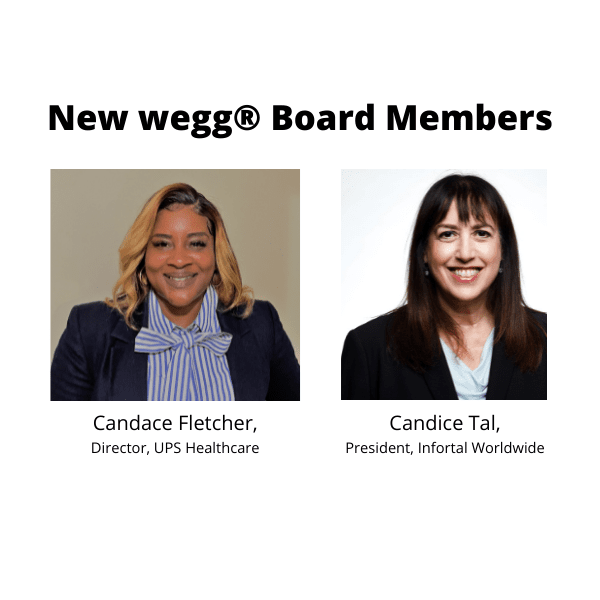 wegg® ADDS CANDACE FLETCHER OF UPS HEALTHCARE AND CANDICE TAL OF INFORTAL WORLDWIDE TO ITS BOARD
FOR IMMEDIATE RELEASE
Media Contact:  Laurel Delaney, ldelaney@womenentrepreneursgrowglobal.org, 773-576-6403

wegg® ADDS CANDACE FLETCHER OF UPS HEALTHCARE AND CANDICE TAL OF INFORTAL WORLDWIDE TO ITS BOARD

Chicago – March 28, 2021: Women Entrepreneurs Grow Global® (wegg®) named Candace Fletcher, director of UPS Healthcare, and Candice Tal, president of Infortal Worldwide, to its board of directors, wegg® President Laurel Delaney announced today.
A Chicago-based nonprofit organization, wegg® delivers affordable and accessible education to women business owners and entrepreneurs seeking to sell their products and services worldwide. As board members, Fletcher and Tal will help set wegg® policies, ensure adequate resources to advance its mission, provide insight and expertise, and identify women who desire to expand their business enterprises globally.
"Candace Fletcher brings valuable logistics and global supply chain solutions for all sizes of businesses," Delaney said. "She will help drive the mission for wegg® and aid women entrepreneurs by developing improved end-to-end supply chains."
"I am very honored and excited about the opportunity to serve on the wegg® board," Fletcher said. "I look forward to bringing my logistics and supply chain expertise to the organization."
Delaney praised Candice Tal for "successfully growing her company into a global leader in risk management and investigations to minimize bribery and corruption across global supply chains. Her 35 years of experience will keep wegg® safe, minimize liability exposure, and maximize operational successes for the global women entrepreneurs we serve."
"It is such an honor to be invited to serve on the wegg® board and become actively engaged in formulating strategic activities and processes going forward," Tal said. "I look forward to working with fellow board members and contributing to help more women business owners grow their businesses globally."
Fletcher and Tal join an extraordinary group of female business owners and leaders on wegg®'s board, including Delaney, Elizabeth (Ela) W. Baio, Molly Bañuelos, Linda Bi, Mara Hedgecoth, Genevra Knight, Susan Meyer, Lori Novak, Hannah Slaughter, Nancy Slack Stachnik, and Kati Suominen.
Further, Fletcher and Tal join wegg® as the organization launches an online environment called Club wegg™. This interactive community was designed exclusively for women business owners, entrepreneurs, and industry leaders who have an unshakeable commitment to grow their businesses worldwide. Club wegg members make valuable connections, share experiences, swap resources, and seek advice to make the leap from local to global.
Club wegg also houses Cohort 1, a professionally-facilitated invitation-only monthly virtual platform for women entrepreneurs whose enterprises have a minimum annual revenue base of $500,000 and have potential of global expansion. The group met for the first time on March 7.
Small businesses interested in participating in Cohort 2 can email Laurel Delaney at ldelaney@womenentrepreneursgrowglobal.org for more information.
###
Contact
Women Entrepreneurs Grow Global
6807 N. Lakewood, Suite LL
Chicago, Illinois 60626 U.S.A.
About Women Entrepreneurs Grow Global® (wegg®)
wegg's mission is to educate, inspire and nurture women business owners and entrepreneurs worldwide on how to go global so they can run healthier businesses and create a new future for themselves, their families and their community. Our vision is a world where every woman business owner has the opportunity and ability to take their business global wherever they may be located. For more information, please visit https://womenentrepreneursgrowglobal.org/