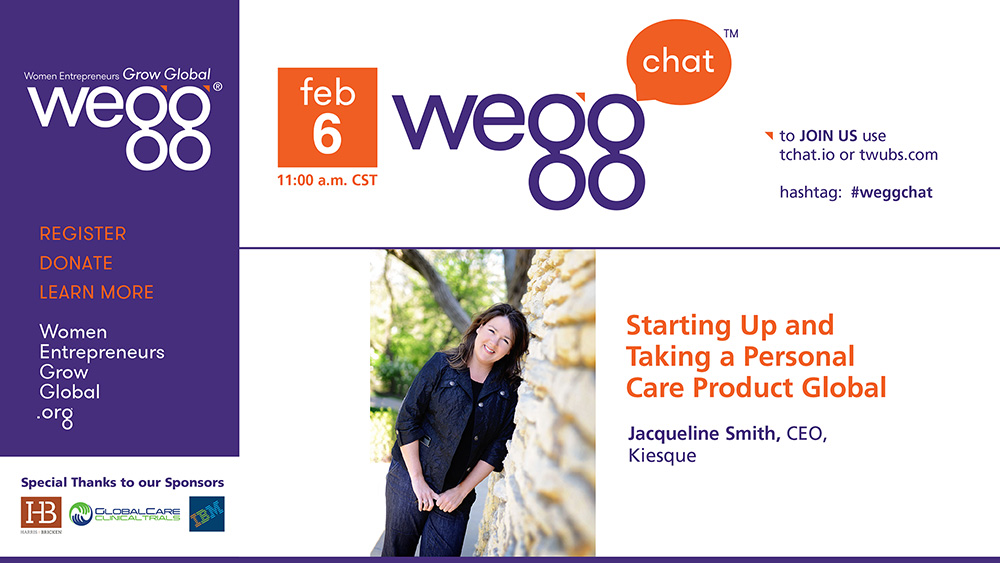 Starting Up and Taking a Personal Care Product Global with Jacqueline Smith
Posted by

Categories

Announcement, Business Development, Contributors, Distributors/reps/wholesalers, e-commerce, Economic growth, Education, Enlighten Me!, Event, global branding, Global trade, global women entrepreneurs, How-to, Innovation, Inspiration, International business, Leadership, Management, Marketing, Media, Networking, Scaling a business, Technology, Web globalization, WEGG event, weggchat®

Date

February 4, 2019
On Wednesday February 6th at 11:00 am CST,  Jacqueline Smith will be leading our first weggchat™ of 2019 on Twitter. Smith is the CEO of Kiesque, and her chat will cover "Starting Up and Taking a Personal Care Product Global."
Why should you participate? Glad you asked.
Not only are all of our weggchats™ free of charge to participants, but they can help you get answers to all of your questions about taking a business global. During the the weggchat™, we will field questions and add insights on global entrepreneurship.
Here are just three of the questions that Smith will cover in her talk:
What prompted you to start your business?
How did you develop a patent?
When did you first start selling globally?
Use tchat.io or twubs.com to follow the conversation with #weggchat. Small business owners are especially encouraged to chime in with questions and answers! In the last five minutes of our chat, all participants are invited to share their "140 character" elevator pitch on their businesses.
A full description of the event can be found on our website.  See you there!
Tag:global business women, global economic growth, global economy, global entrepreneurship, global growth, global market, global marketplace, global markets, Global Products, global reach, global small business, global trends, go global, kiesque, motivation for starting a business, small biz going global, Small Business Trends, women business owners, women entrepreneurs, women in business