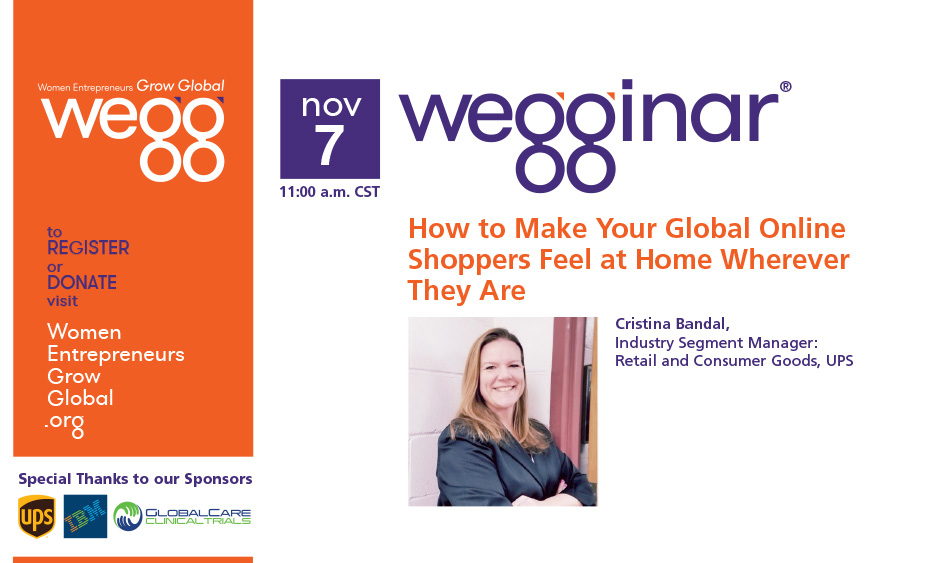 Everything You Need to Know from Our wegginar® with Cristina Bandal
Posted by

Categories

Announcement, Barriers to trade, Branding, Business Development, Capital (working), Contributors, Cross border compliance, Culture, e-commerce, Economic growth, Education, Email marketing, emerging markets, Enlighten Me!, Exporting, Featured, Foreign office setup, global branding, Global news, Global trade, global women entrepreneurs, How-to, Importing, International business, Logistics/transportation, Management, Marketing, Networking, Outsourcing, Social Media and Network, Technology, Web globalization, WEGG event, wegginar®, World entrepreneurship

Date

November 12, 2018
This past Wednesday, wegg® had the pleasure of hosting the Industry Segment Manager of Retail and Consumer Goods for UPS, Cristina Bandal. Bandal lead one of our free online wegginars®, which provide monthly, accessible education to women entrepreneurs everywhere. Bandal's talk covered how to overcome the obstacles that people face when trying to sell their products to the global market. She also answered the questions of wegginar® participants. Read their inquiries, and her responses, below:
What's the single biggest challenge on why people don't setup an online storefront?  Setting up an international store may sound complicated if you are thinking of creating a country site – but with only a few enhancements, you can make international customers feel at home. 
What are your thoughts on how to factor in taxes, (shipping and duty), to price my products profitably, yet make them affordable to my customers?  With the solution available, your catalogue will provide the information needed to calculate a duty and tax, and offer a landed cost to your customers (and protect you from abandoned goods!)
How does our current trade war with China impact the information presented in this wegginar®?  Whatever tariff regulations are passed are updated to protect the shipments.
Is there a way to target one foreign market when I launch my e-commerce site so that I can test the waters?  YES!!  You can choose what countries to target.
What's the best way to setup a payment method, in your own currency or the customer's?  International consumers would like to see their own currency to avoid surprises. By using the UPS i-parcel solution, you are protected by allowing transactions to be processed through UPS, and provide fraud protection.
To read Bandal's extended answers to these questions, and more, you can view the full presentation (PDF) from the wegginar®, here. wegg® was honored to have Bandal share her experience and knowledge with us.
If you were not able to participate in this month's wegginar®, we already have registration open for our 12/5 talk with Andrew Molinsky, Ph.D. He will talk about how, "if you are not outside your comfort zone, you won't learn anything." Register here.

Tag:exports, global economic growth, global economy, global growth, global marketplace, global markets, global online presence, Global Products, global reach, international expansion, international market, international marketplace, international trade, international trade and commerce, small business online community, UPS, women business owners, women entrepreneurs